In this section we'll quickly go through the main parts of the Artemis interface without going into too much detail.
When you open up Artemis you are greeted by the homescreen.
For now it's kind of empty but in the future this will be a place for the latest changelog, news and featured workshop items.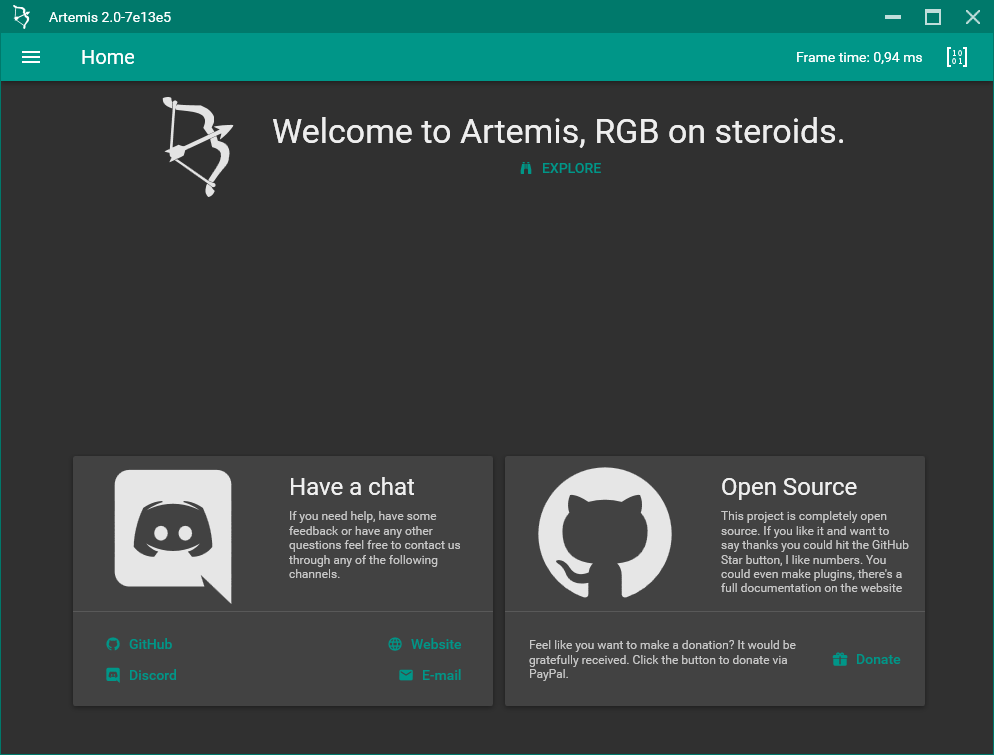 The screenshots in this guide may be a little different from what you're seeing due to Artemis changes. If something makes no sense at all anymore, please let us know.
When you click EXPLORE or click on the hamburger icon in the top-left corner, the menu will open. From here you can navigate to different parts of the application.

On the very top Artemis tells you how many modules are active. To learn more about this, check out the modules chapter.
Menu items - Pages
Home - This takes you back to the home screen.
News - Once implemented, in the news section we'll keep you up to date on Artemis development etc.
Workshop - Once implemented, the workshop will be the go-to place to find new profiles, effects and plugins.
Surface Editor - The surface editor is where you tell Artemis where all your devices are.
Settings - Settings let you manage global application settings, plugins and devices.
Menu items - Modules
All your modules show up in this seperate section of the menu. From here you can click on a module to start creating a profile for it.
General - This module is for every day use while you're not using a specific application/game.
Overlay - Used for effects that should always be visible.
During the initial setup wizard, you picked one or more device providers to use. These device providers have initialised in the background and made any devices they detected available to Artemis.
Now it's time to prepare your surface by giving these devices their own position. The surface contains a 2D representation of where all your devices are located in a physical space, like your desk or even entire room.
Artemis uses this information for its spatial awareness, allowing effects to realistically move across multiple devices.
When you first open the surface editor all your devices are stacked in the top-left corner (this is until we have come up with good defaults).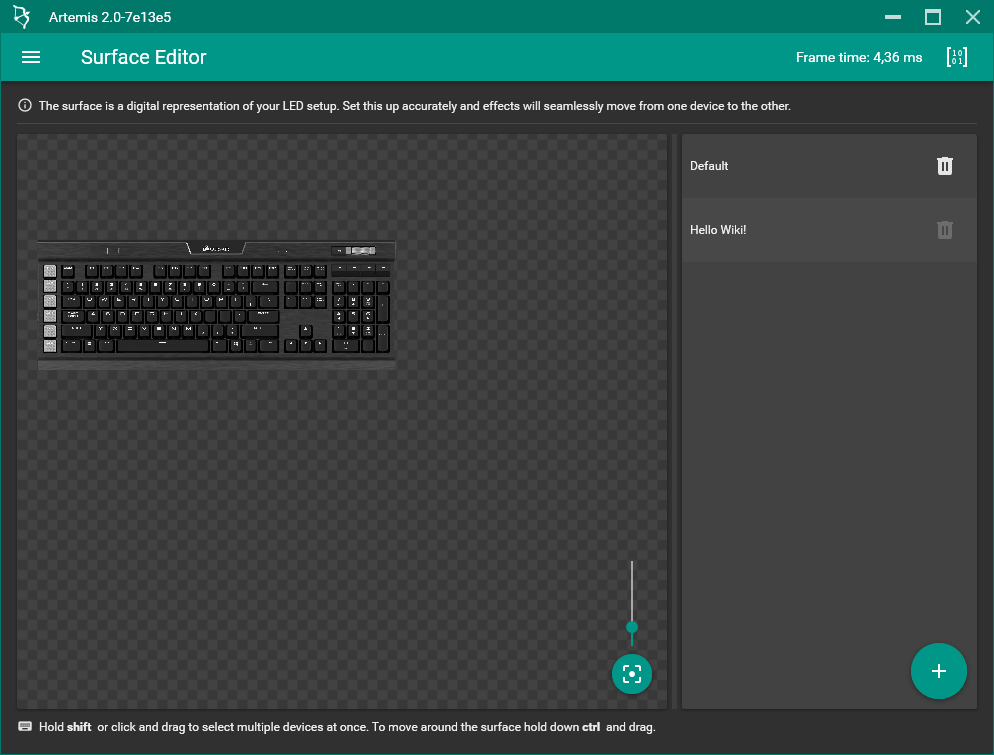 To see if there are any more devices, try dragging things around. In this example, if we move the keyboard by dragging it with the mouse, another device is revealed
Now all you need to do is move devices around to match up with their real location as closely as possible.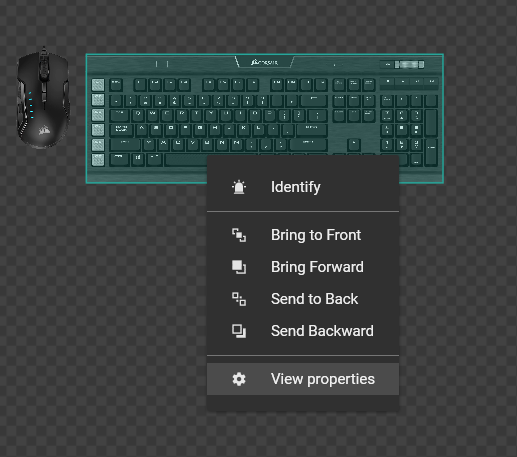 If you right-click a device a menu opens with extra options.
Clicking Identify will make the device blink white a few times, that way you can tell the difference between similar devices.
Bring to Front and the other 3 options allow you to put certain devices on top of eachother, like RAM on a mainboard.
View properties will bring up an options menu where you can precisely control the position in milimeters and change the scale and rotation of a device.
Whatever you enter here is not validated yet. If you enter a huge value you may need to recreate your surface.
Hold shift or click and drag to select multiple devices at once.
To move around the surface hold down ctrl and drag
You can create multiple surface configurations, useful if you move your PC or laptop between different spaces with different setups.
By default Artemis is a blank slate and to ensure that something is shown on your devices you need to activate a module. In the navigation chapter we looked at the menu and saw how we can access modules. Lets now go into further detail on what kind of modules there are and how they are used.
There are three types of modules, ordered by priority they are
1. Overlays
Overlay modules always render on top of all other modules. They serve as a way to display information regardless of what other modules are active.
An overlay module might a layer that displays a volume bar whenever you change the system volume.
2. Applications/games
Application/game modules are modules that are tied to specific application or game. These modules only activate when the application they are associated with is running.
An application module might contain a layer showing your currently selected color in Photoshop.
A game module might contain a layer showing the color of the current team you are playing for.
3. Normal
Normal modules are low-priority modules that run in the background. They are usually only visible when no application/games module is active.
A normal module might contain a layer playing a sliding rainbow effect.
A module uses profiles to allow you to configure exactly what must be shown. You can create multiple profiles and switch between them at will as long as the module is active.
Inside a profile you can create layers that display certain effects or colors on a selection of LEDs of your choice. This can be any amount of LEDs, an entire device of even every device in the surface.
These layers can be animated, you can add conditions to them and you can 'bind' their values to specific data. Much more on this can be found in the profiles guide.
A module can opt-out of using profiles. In that case it is down to the module developer to decide what kind of customizability to offer.
Most modules won't always be active. Instead, they will activate when certain conditions are met. A good example of this is a game-related module: It will only activate when the game is running.
You cannot control these activation requirements because the plugin developer has to decide whether their module can run. Per example a game module may give errors if the game it is made for is not running.
If your module has activation requirements, you can view these requirements in the "Activation" tab of the module.
¶ Expanding the data model
Modules may provide Artemis with extra information in the data model.
The data model is covered in the profiles guide guide but in short: The data model contains all kinds of arbitrary information which you can use to make your profiles react to game events, application statuses, sensor information etc.
A module for Counter Strike: Global Offensive (CS:GO) will expand the data model with info on your current armor and HP levels, how much ammo you have in your clip and on which team you are. Because this information is tied to the game, it is only available to profiles of the CS:GO module.
With that data added to the data model you can set up a layer in such a way that it starts blinking red when your HP goes below 20%.
To add to that, you can set up another layer that turns blue when you're a Counter-Terrorist team and a layer that turns orange when you are on the Terrorist team.
The possibilities are endless!
The settings page lets you manage application settings, plugins and devices.
In this tab you can manage application settings. Each setting comes with a short explaination. Any changes you make here are saved automatically.
This tab allows you to manage the priority of your modules. You can use it to override the default categories and determine which module should render on top of the other.
This tab contains all your plugins. Right now with the absence of the workshop you cannot install/remove plugins but you can disable them.
Some plugins have extra settings, they can be accessed from here by clicking the SETTINGS button on the respective plugin.
If a plugin failed to load, you can click on the red LOAD FAILED button to view the error.
Plugins and their functionality is further explained in the plugins guide.
Right now disabling device providers requires a restart. This is a known limitation we hope to resolve soon.
This tab contains all devices detected by Artemis.
Clicking Identify will make the device blink white a few times, that way you can tell the difference between similar devices.
If you press the three-dots button, you can open a device debugger useful for layout development.
Disabling individual devices is not yet implemented.